Professional Development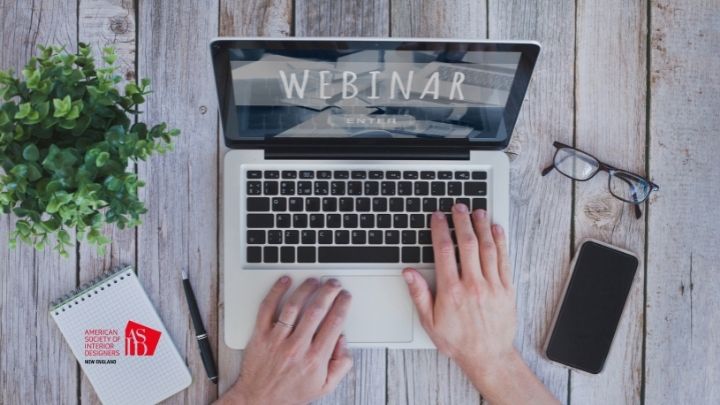 Below, please find some helpful resources from our recent professional development programs, including recordings and handouts.
Don't miss our upcoming professional development programs! View our full calendar.
Flame Retardants in Home Furnishings: What They Are, How They Got There
Presented by Bary Cik | May 5, 2022
View Presentation Recording Here
---
The Social Dilemma: Success, Validation, and Growth Outside of Social Media
Presented by Natalia Mirabito | April 14, 2022
View the Presentation Recording Here
---
Creating a Plan to Make 2022 Your Best Business Year Yet
Presented by Justine Clay | January 2022
View the Presentation Slides Here
---
Thinking of Taking the NCIDQ Exam?
Check out the "Next Level with NCIDQ" presentation from January 2022
Learn more about the application process.
Learn more about studying for the NCIDQ exam.
____________________________________________________________________________
Navigating the Nuances and Intricacies of the Modern Supply Chain and Product Lifecycle
Presented by Fiber-Seal Systems | November 2021
---
Protecting Your Color Vision: How Color and Details Assure Your Signature Style
Presented by Benjamin Moore | October 2021
___________________________________________________________________________________________________________________________________________________________
Which Surface to Specify: A Conversation with Cosentino
Hosted by Cosentino | October 2021
---
2021 Annual Meeting at Design Edge Boston
Presented By Diana Frucci, Lee Hershberg, Jen Dolan, Eric Haydel, Jennifer Wilson, and Tracy Mowschenson | September 2021
---
Picture Perfect: Maximize Your Investment in Interior Photography
Presented By Elaine Fredrick, Elaine Fredrick Photography | July 2021
---
First Friday: Complements Art Gallery
Presented By Domenic Rignanese, Complements Art Gallery | June 2021
---
Rethinking Light, Design + Human Experience in a Solid State world of LEDs
Presented By Danielle Volpe, Fluxwerx Illumination | May 2021
---
First Friday: Tour the New Christopher Peacock Boston
Hosted by Christopher Peacock | May 2021
---
A Conversation with Today's Design Leaders
Panelists: Jacri Conry, Bob Ernst, Bobby Ernst, Jr., Tracy Mowschenson, Ryanne Sanderson; Moderator: Eric Haydel | May 2021
---
Next Level with NCIDQ
Presented by Rose Mary Botti-Salitsky & Kimberly Woods | April 2021
Download the Slides | View the Recording
---
First Friday: Outdoor Living with Brown Jordan
Hosted by Brown Jordan | April 2021
---
Design's Role in the Healthy Homes Movement
Presented by Samantha Allaire Noonan & Tiara Castro | March 2021
View the Recording at the Sherwin-Williams Learning Center
---
Easy Ways to Healthy Interiors
Presented by Annette Stelmack, LEED AP BD+C | March 2021
Download the slides | View the Recording
---
Setting Your Business up for Success in 2021
Presented by Ginna Christensen | February 2021
---
Attracting New Clients in a Pandemic
Hosted by Flyte New Media | August 2020