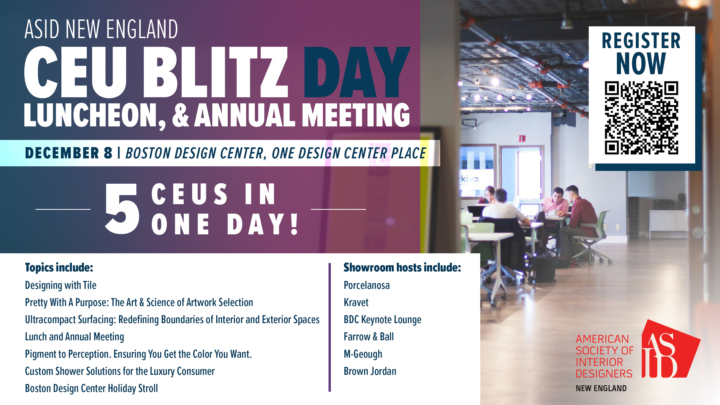 CEU Blitz Day, Luncheon & Annual Meeting
Description
CEU Blitz Day, Luncheon, & Annual Meeting
Join us at the Boston Design Center on Thursday, December 8th to earn up to 5 CEUs.
The event is open to all within the design community, ASID NE members and non-members alike.
Designing with Tile
Presented by Olga Perez, Porcelanosa
Showroom Host and Breakfast Sponsor: Porcelanosa
At the end of the program, the participant will be able to: Understand how tile is made and the different types of tile products available and the advantages they provide over other surface finishes. Avoid problems with tile and stone installations by keeping in mind proper design considerations and selecting the right products for each application. Know how to specify the correct materials, installation methods, and products based on building use, substrate, exposure, etc. Learn how to utilize resources available for specification information and current standards.
---
Pretty With A Purpose: The Art & Science of Artwork Selection
Presented by Anne Strickland, Great American Art
Showroom Host: Kravet
As research continues to shed light on the documented benefits of art on well-being, more organizations are seeking to use art for more than its decorative properties.
This CEU seeks to educate specifiers on the research that supports art's impact on a building's occupants, and how it can be used to support the overarching goals of the project.
---
Ultracompact Surfacing: Redefining Boundaries of Interior and Exterior Spaces
Presented by Guillermo Langle Fernandez, Cosentino
Showroom Host: BDC Keynote Lounge
In this course, we explore a cutting-edge technology, called Ultracompact Surfacing. The audience will gain insight into how this surfacing material possesses similar characteristics of natural stone while providing unmatched durability and design flexibility. We will also explore its optimal use as cladding in a rainscreen application, as well as other options for material use.
---
Lunch and Annual Meeting
Showroom Host: Brown Jordan
Lunch Sponsored by: Cosentino
---
Pigment to Perception. Ensuring You Get the Color You Want.
Presented by Jess Ritchie, Farrow & Ball
Showroom Host: Farrow & Ball
In this course, how we see and perceive color will be explained. We will explore the functions of human sight and how lighting and depth can change how we interpret color. We will also compare the differences of seeing color digitally and by the naked eye. Participants will leave with an understanding of the factors that determine how we see color. They will be given direction on making sure they are finding the most accurate depiction of the color they want to portray.
---
Custom Shower Solutions for the Luxury Consumer
Presented by Johnn Ventimiglia, Kallista
Showroom Host: M-Geough
While the bathroom was once a strictly utilitarian space, a growing trend among luxury consumers is to create a custom, spa-like wellness retreat right in the home. Surveys find that luxury consumers value functional and design excellence, uniqueness that reflects a creative side, and exceptional quality and value. This course examines the shower products available that help to create a personalized, multisensory wellness experience with beautifully designed pieces that meet water efficiency standards.
---
Holiday Stroll
Hosted by the Boston Design Center
Finish your day with fun and cheer during the Boston Design Center Holiday Stroll