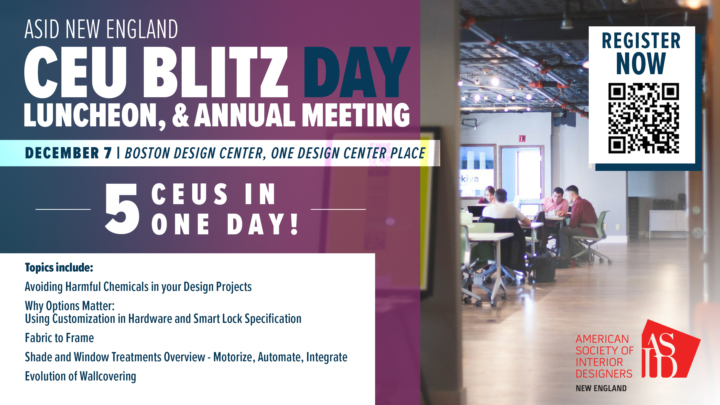 CEU Blitz Day and Annual Meeting
Description
Join ASID New England at the Boston Design Center on Thursday, December 7th for a day of knowledge and networking to earn up to 5 CEUs in one day!
Sessions will cover sustainability and healthy material selection, the art of custom upholstery with a focus on fabric selection and pattern placement, the evolution of wallcovering, the latest in window treatment technology, and more! We'll share the latest on what's happening with ASID in our annual meeting over lunch. Following the CEU presentations, we invite you to join us for a champagne toast to celebrate the season and kick-off the Boston Design Center Holiday Stroll!
ASID Members: We hope you'll join this impactful day of learning, designed to help ensure your CEU requirements are met for the upcoming ASID CEU reporting deadline on December 31, 2023.
---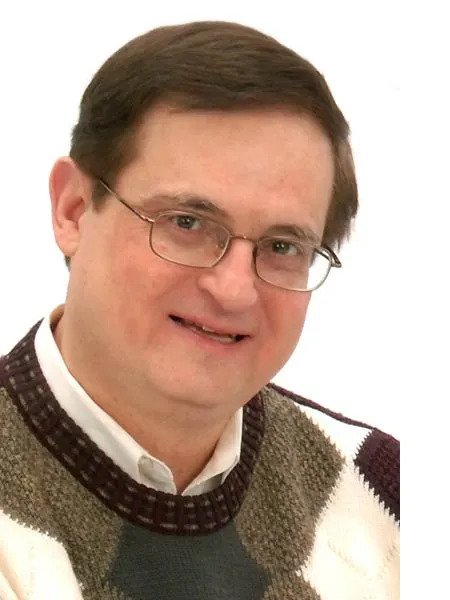 9:15 AM – 10:15 AM
Avoiding Harmful Chemicals in your Design Projects
Presented by Barry A. Cik, Naturepedic
Breakfast Sponsor: Naturepedic
Showroom host: Kravet, Inc
The presentation focuses on sustainability, differences between what used to be in household materials vs what is in them now and good choices that we can make currently with what is available. It goes through harmful chemicals that people may not even know exist, where they are found and better alternatives when choosing new. There are four slides dedicated to specific rooms in the house (bedroom, living room, kitchen and bathroom), what certifications to look for when purchasing products and then a little bit about our company and how we are a good option to avoid these chemicals.
---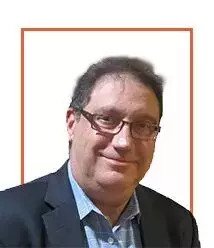 10:30 AM – 11:30 AM
Why Options Matter: Using Customization in Hardware and Smart Lock Specification
Presented by Robert Raposo, Newbury Sales Group
Showroom host: Laurel Windows
This course explains the benefits of door hardware personalization and smart lock integration for residential projects. We'll dive into the WELL building standard, ADA compliance and how these subjects promote elevated sensory experiences as well as better general welfare for the end users. Participants will understand the door hardware personalization smart lock technology and how you can incorporate this into any personalized hardware environments.
---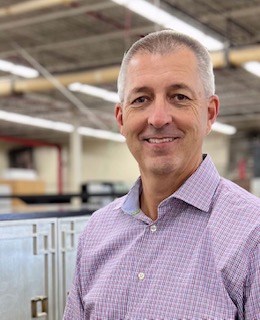 11:45 AM – 12:45 PM
Fabric to Frame
Presented by Keith Nichols of Century Furniture, represented by The Martin Group
Showroom host: 3rd floor seminar room (The Martin Group)
Understanding pattern placement related to fabric type and fabric direction. Understanding both determine the seam placement, flow match points, and fabric yields for a furniture item.
---
1:00 PM – 1:50 PM
ASID NE Annual Meeting


We are thankful for The Martin Group, who is generously sponsoring lunch for our attendees. Visit their website and connect on their social channels through Instagram and Facebook.
Showroom host: Designer Lounge
---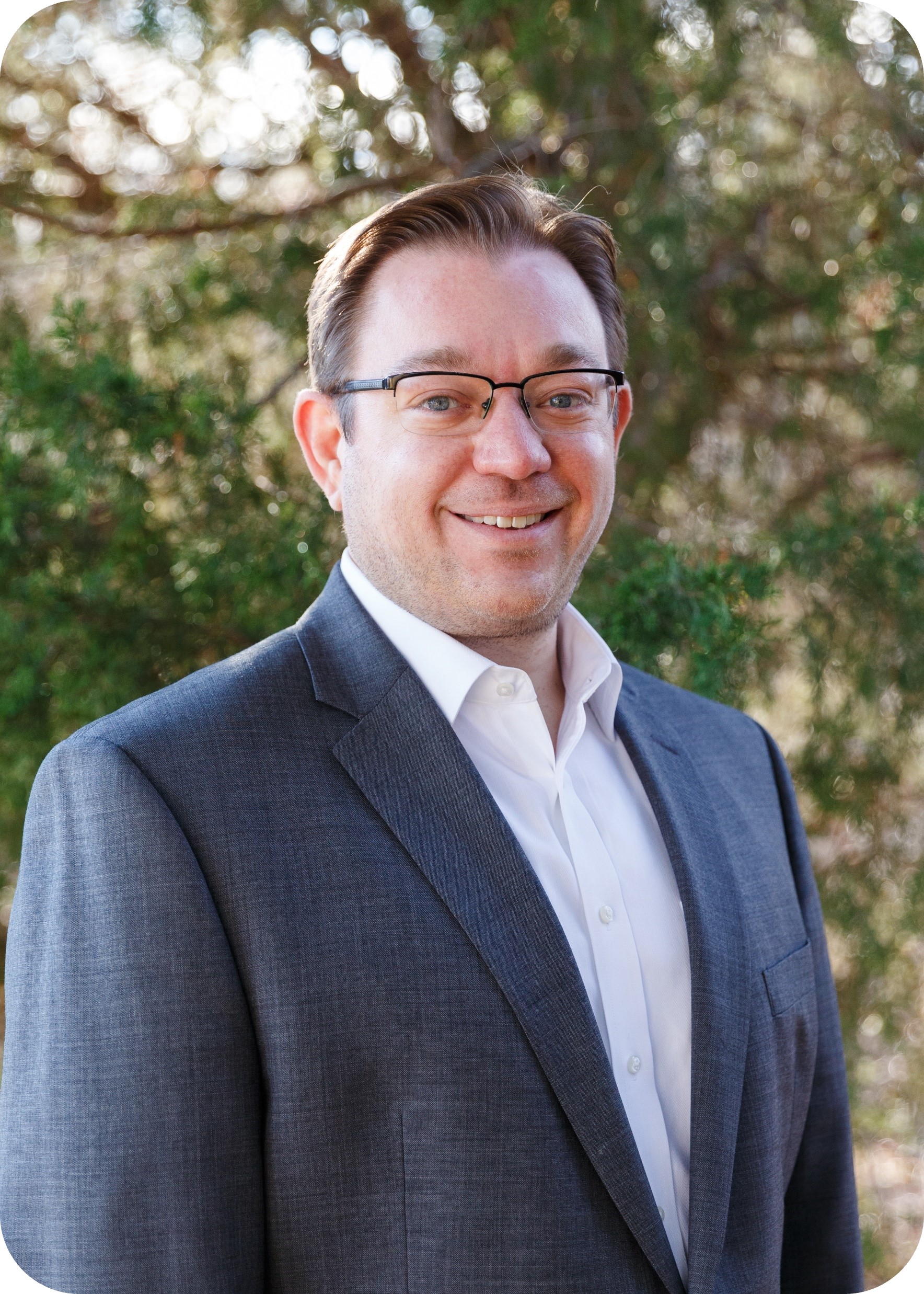 2:00 PM – 3:00 PM
Shade and Window Treatments Overview - Motorize, Automate, Integrate
Presented by Dan Abramson, Simple Home
Showroom host: Ann Sacks
There are many different types of window treatments that can be installed in residential and commercial projects – including those used outside a structure. This course provides an introduction to these various types of products, the considerations (and client benefits) when automating shade and window treatments, and how to build your team of professionals when implementing this type of technology into your project.


Learning Objectives
Identify various types of interior and exterior window treatments
Define differences between motorized and automated window treatments
Analyze the "why" of automated window treatments
---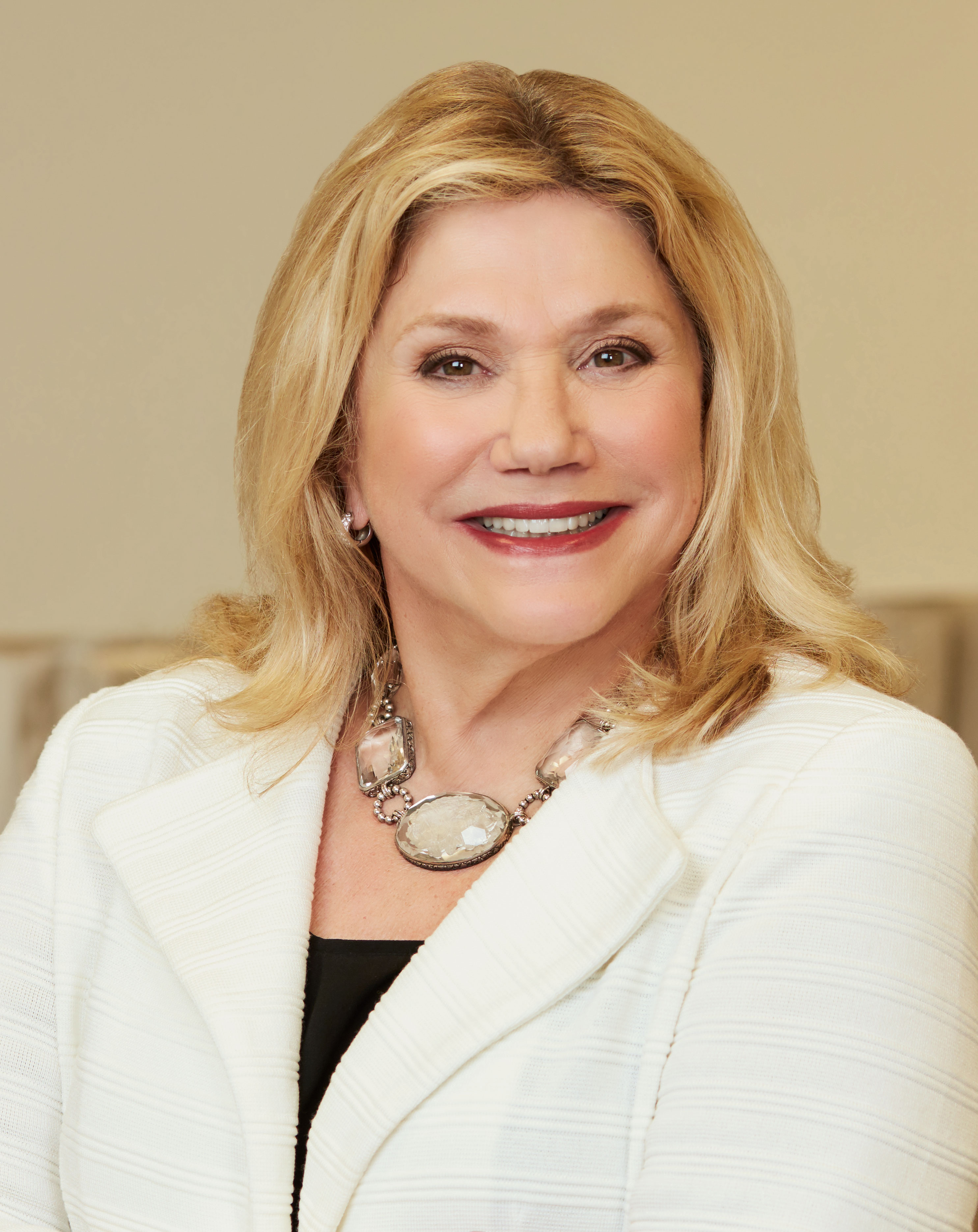 3:15 PM – 4:15 PM
Evolution of Wallcovering
Presented by Joyce Romanoff, Maya Romanoff
Showroom host: M-Geough
Wallcovering serves as an integral aesthetic in interior design--often used as the background that helps define a space, and brings all of the other elements together. Joyce Romanoff's CEU explores the Evolution of Wallcovering, from its incredible history to the role it plays today and beyond!