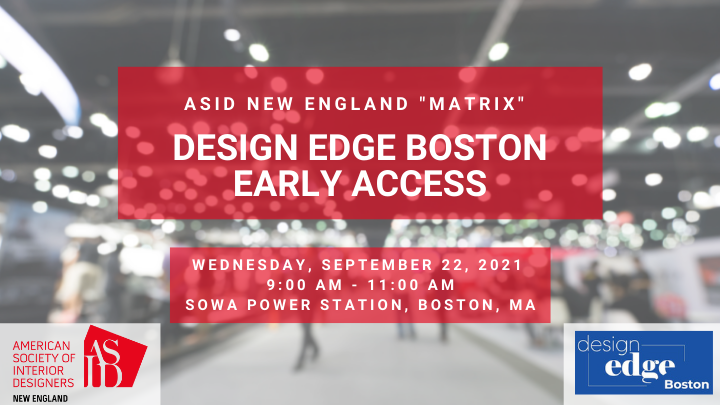 Design Edge Boston Early Access & 2021 Annual Meeting
Description
ASID New England is excited to partner with Design Edge Boston on a special, members-only event: Design Edge Boston Early Access.
This event is an exclusive one-hour preview on Wednesday, September 22, 2021, from 9:00 AM to 10:00 AM. During this time, ASID New England members will have access to more than 20 designer-centric manufacturers representing the best brands in the industry, before the show floor officially opens at 10:00 AM. Think of it as a mini High Point Market – right here in Boston!
Chapter members are invited to attend our 2021 Annual Business Meeting from 10:00 AM to 11:00 AM. You'll hear from our President, Diana Frucci, and other members of our Board of Directors about the chapter's activities this year and what's in store for next year. After the Annual Meeting, attendees can return to the Design Edge show floor.
Register for Design Edge AND the Annual Meeting HERE.
Can't attend Design Edge but want to attend our Annual Meeting? Click HERE to RSVP!
---
What is Design Edge?
Design Edge is a highly curated, trade-only event featuring the best home furnishing brands in North America. The first event of its kind, Design Edge brings leading designer-centric manufacturers to premium markets throughout the country to connect with the region's designers and tastemakers? Learn more about Design Edge Boston HERE.
Why Design Edge?
Design Edge closes the gap between manufacturers' capability and designer awareness. Through executive-level access, the best brands in the industry share their product collections, designer programs, and versatility in meeting the scale and scope of project demands.
Who Will Be There?