SCALE Summit: Q&A with Julia Kennedy and Amanda Lombardo
In February, Julia Kennedy and Amanda Lombardo had the opportunity to attend the ASID National Student Summit in Los Angeles, California. Student Chapters from all across the country were accompanied by their Chapter Board Presidents to network and learn from design industry leaders. They heard presentations from highly acclaimed design professionals such as Jennifer Kolstad, a Senior Vice President at HKS Architects and John Carey who is the author of "Design for Good". These dynamic speeches left the audience inspired and motivated to advance in their careers. Interactive workshops helped to outline the responsibilities a professional interior architect possesses. Looking beyond the decorative details to fully grasp the ways design impacts lives, and what we can do to improve the quality of life of those who inhabit the spaces we create was the theme of SCALE.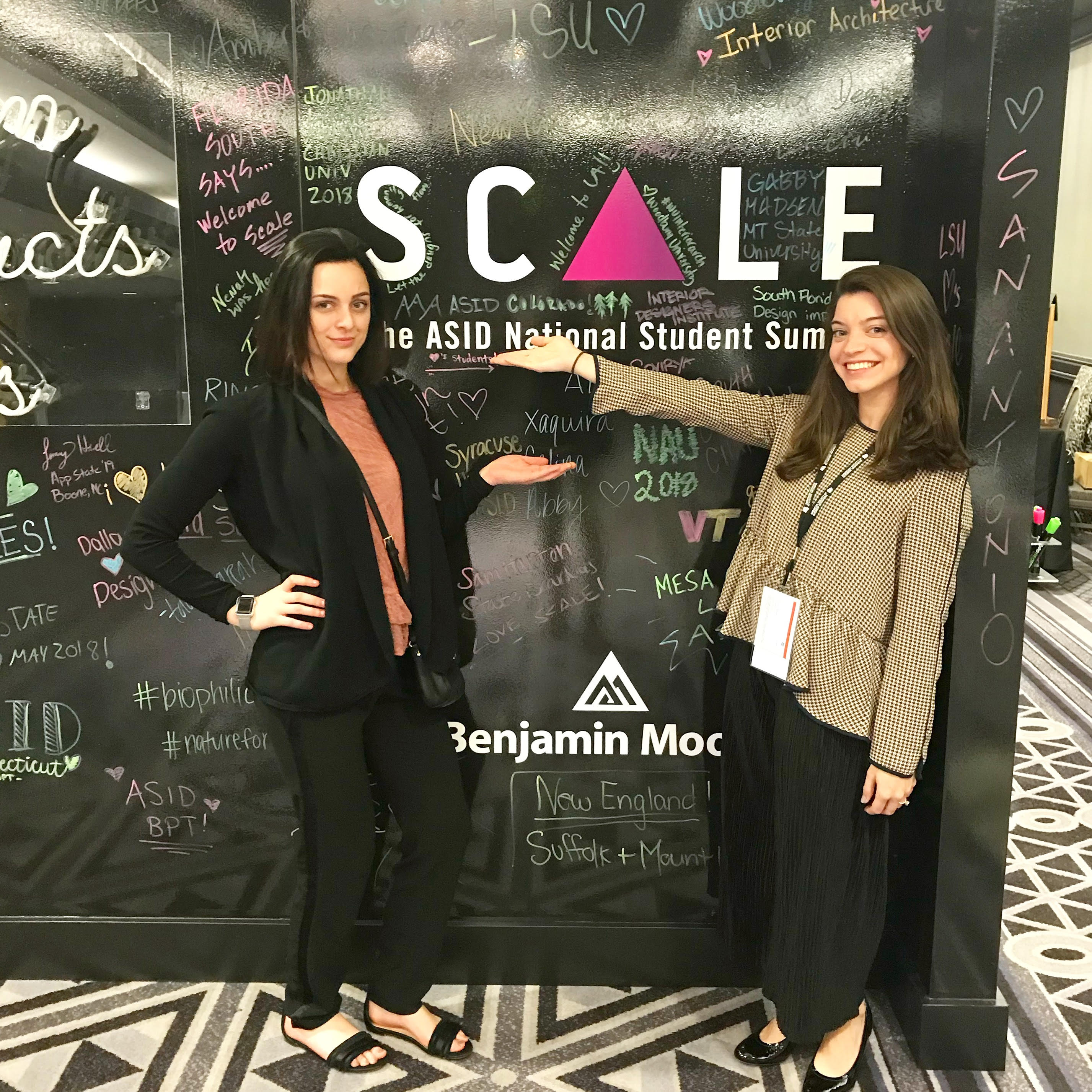 Q&A with Julia Kennedy and Amanda Lombardo
In what ways has being a part of ASID benefited you?
Julia: As the Student Representative of ASID New England I have had the opportunity to attend a couple national conferences where I was able to learn and network with some of the industry's top design professionals and industry partners. By attending ASID events in New England I have made connections with seasoned designers who are very welcoming and generous with the advice they have for a young professional. Even though putting yourself out there in professional environment as a student can be scary, it's so worth it. I was at a local ASID event where I heard they were looking for a new Student Rep, so I offered to fill the position. You never know, a connection made at a local event like the Student Showdown could land you your next internship or first job upon graduation.
What were you looking to get out of attending SCALE?
Amanda: When I was presented with the opportunity to attend SCALE, I knew this could be an event that would open new doors. I always look forward to meeting designers in the field, and through the career fair I hoped to create connections that could further my career. Through the workshops, I was interested in learning about new topics and how to be a professional leader in the field.
What kind of workshops were at the event?
Amanda: SCALE was an amazing experience. The ASID Scale Event APP allowed us to reserve our spots in different workshops throughout the day. Within the three days, there were various workshops we had the option to attend during each session. This allowed us to explore topics that we have yet to discuss in class. For example, we attended Biophilic Design, Professional Leadership, and Portfolio Development. Every day there was a professional key note speaker that spoke about their experience in the field. Each speaker's experience was different and inspirational. In addition to workshops, there were tours to showrooms and buildings that impacted the community in a positive way. In the future I look forward to entering my portfolio in their Student Portfolio Competition and meeting more professionals during their Career Fair!
Where is SCALE next year and where do people find out information to attend?
Julia: Next year SCALE will be held in New York City! There will be more information coming out this fall. But the first step to getting there is signing up as a student member of ASID. Visit www.asid.org and go to the "Belong" tab to apply!
Overall, how was your experience at SCALE?
Amanda: I enjoyed the whole experience! It was interesting hearing from professionals in different areas in the field of design. It was also heartwarming to hear how much design impacts the world today. The career of interior design has come a long way, and I am so excited to be a part of such a great community. I look forward to applying what I have learned at this event in my career as well as projects in future classes!
Julia: It was so much fun! Being around so many people who share similar passions from all over the country made for some great conversations. The speakers were absolutely phenomenal and left me thinking beyond space plans and finishes and more towards how design impacts lives. In one of the smaller workshops I was able to talk to Tim Schelfe, Partner of JDavis Architects, about projects I am working on in my internship where he gave me great advice on improving professional practice methods. Finally I felt really proud to represent not only New England but my school, Mount Ida, at this conference. During the sustainable design workshop I learned that some other schools do not have sustainability implemented into their curriculum. It is a great feeling to know that our school is preparing us to be competitive applicants for positions after graduation.