Phyllis Stibler: A Look Back at 45 Years of Design Excellence
By Helen Principio | Photos by Kevin Harkins Photography
I knew the second I walked into Stibler Associates it was a special place. I had the feeling I had just hit the jackpot of interior design jobs! I had been hired by a woman-owned, all women, interior design firm in Manchester, NH. It almost seemed too good to be true.
Six years later, I now know for certain I won the jackpot. During my time at Stibler I have been able to work on a wide variety of projects throughout New England and the country. I have had the opportunity to work with a fantastic group of designers and the most wonderful clients anyone could ask for. I have also been witness to the transition of ownership from our founder Phyllis Stibler to our current president Genella McDonald – another credit to Phyllis whose careful and thoughtful planning has ensured that Stibler Associates will continue on as she starts her next adventure. The most impactful experience in these six years has been working for and getting to know Phyllis. It has been an honor to work with her and to witness her passion for design and mentoring those of us starting out in the profession as well as for creating a work environment that we all look forward to coming to every day. She has set the bar high and we all continue to strive for that level of excellence daily.
After 45 years in design, we recently celebrated Phyllis as she moves on to her next chapter. It gave me the opportunity to sit down with her to find out more about her career in design. Here are some of the insights from our conversation.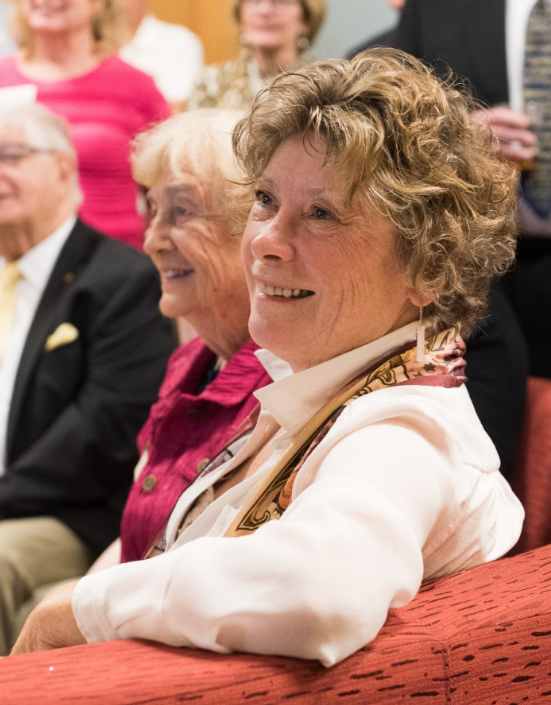 HP: When did know and what inspired you to become an interior designer?
PS: I wanted a profession in the arts. I wanted to make my own way and that led me to commercial design. I thought about becoming a fabric designer or an illustrator or an interior designer. I grew up in a little town in Connecticut that had several buildings designed by Sanford White which inspired me to love good design. His firm was responsible for our community bank, my Dad's office, the library, the high school and my church. They were all McKim, Mead & White buildings – the firm out of NYC that was famous around 1890.

HP: So, you were surrounded by good design?

PS: Yes. The idea of being an interior designer took hold. When I was 16 I said this is what I want to do and I never changed my mind.

HP: What inspired you to start your own firm?
PS: I spent the first 8 years of my professional career in the Baltimore and Washington DC area. I always wanted to live in northern New England and when my former husband had an offer to teach at UNH, we jumped at the chance. I worked for architect Don Lavallee for 2 years, a wonderful mentor, but I wanted to practice interior design with a wider base. I started my firm because no one else was doing it. If there were a large interiors firm, I would have gladly signed up and said let me work for you!
HP: Were you able to practice the type of design you wanted at Lavallee?
PS: Yes, but in reality, I could only work with one architectural firm. Lavallee's firm, now Lavallee Brensinger Architects, was extremely supportive. We still have a wonderful relationship. They were very good about including me on their team, but allowing me the independence to spread my wings.
HP: What were the biggest challenges you faced as an interior design firm when you first started? Have the challenges you faced changed over time?
PS: I laugh about it now, but my by-line was "we don't sell sofas". People only knew residential interior decorators at that time. I contacted one architect to see if they had any interest in collaborating – who wrote back and said "There is no interior design in NH!" So initially that was the difficulty – defining what we did. It actually got easier when we encountered good competition. Then it wasn't just me defining the profession; there were other credible firms saying the same thing and that helped. Over the 45 years, the continuing challenge is to define what we do and field questions like "You get degrees in this?"
HP: You have been a member of ASID for a long time. What value did you see in becoming and remaining a member all of these years?
PS: I think education, accreditation and continuing education are all extremely important to our professionalism, a priority. I was a member of the National Society of Interior Designers before ASID was founded. I became a member of ASID and passed the NCIDQ in 1977. Accreditation has always been important in our firm. Having our diplomas and accreditations hanging in the office gave us credibility and still does.

HP: To what do you attribute the longevity & success of Stibler Associates?
PS: That is a very good question and I think it may have several answers. One, every person we hire is extremely well qualified and well educated. Secondly our team always has our clients' best interest as their first priority – I think that honesty & truthfulness and the desire to do the right thing is probably the key to our longevity. It also occurs to me that because we were based outside a major metropolitan area, we had the ability to develop a full spectrum of work. If I had started my firm in Boston or DC for example, I think we would have been known solely as corporate designers or health care designers for example. Because we were a regional firm, we grew with a greater versatility - corporate, health care, hospitality, educational and some retail projects.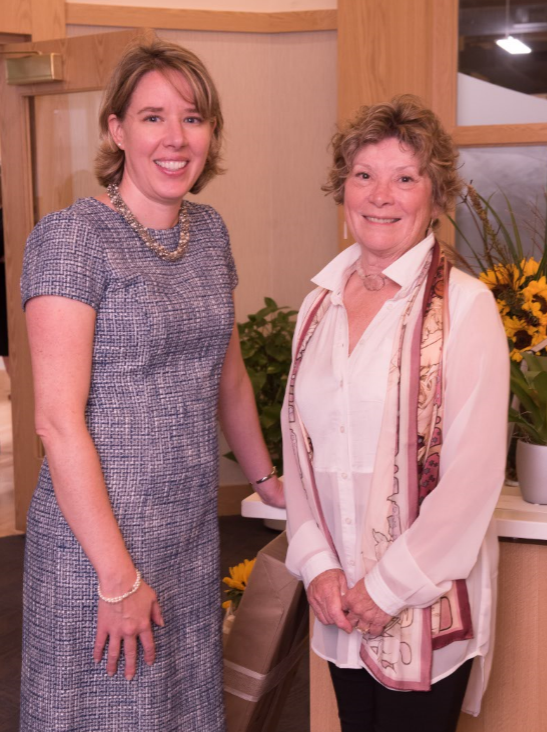 HP: What advice would you have for someone running or starting their own interior design business?
PS: Get the very best education you can and then be prepared to work really hard!
HP: What aspect of running Stibler has been most memorable or enjoyable?
PS: I think it has been being part of the community of NH. I have loved working in our state. We work all over the country, but the day to day contacts, the contractors, the community relationships, the Chamber of Commerce, the YMCA, New Hampshire Institute of Art - all these relationships are so very rewarding. I was in the Leadership NH program in the early 90s and it was like taking a graduate course in what makes NH tick. It's just been a wonderful state to have as home base – the Granite State.
HP: Do you have any projects and/or clients over your 45 years that stand out?
PS: I love them all! The small ones, the big ones, the ones in between. They have all been wonderful. [Right: Current president of Stibler Associates, Genella McDonald and founder Phyllis Stibler​]
HP: What will you miss most as you move on to retirement?
PS: I don't know yet. I see retirement as a continuation of being a creative person. I'm illustrating a book, another way to channel my design and rendering skills. What we do as interior designers is programmatic art – art for a reason. Turning to illustration feels like another iteration, so I don't know if I'm going to miss anything. I plan to come into the office and be happy in the environment that, now, causes me no stress! There are certainly no regrets. I'll still come in on Mondays with my computer issues – that's it! That's what I may miss the most –all the talented people to whom I can pose my whacky computer questions and get intelligent, loving answers!
As we wrapped up our night of celebration for Phyllis it was obvious what an impact she has had not only on us, but her friends and clients, and the community as a whole. Her impact is far-reaching and although she may no longer be practicing interior design, we know she will continue to spread her magic! Thank you, Phyllis, for 45 years of Design Excellence!