New England Chapter's Student Design Challenge 2018
DEADLINE EXTENDED!
WHAT | The American Society of Interior Designers New England chapter is awarding academic scholarships to one undergraduate student and one graduate student of interior design or interior architecture.
AMOUNT | $2,000 Undergraduate students | $3,000 Graduate students
Submissions Due by Wednesday, May 30, 2018
Winners will be recognized at the 2018 Annual Meeting in September 2018.
ELIGIBILITY | This competition is open to active ASID student members who are currently enrolled in a full-time undergraduate or graduate program in interior design or interior architecture at an educational institution in New England.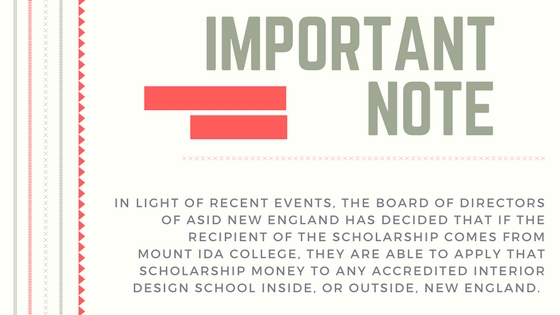 DESIGN CHALLENGE | The American Society of Interior Designers' knows that interior design has the power to impact human lives – #DesignMatters.
For this scholarship competition, students are asked to select a previously completed project that best illustrates the impact of design and answer the question: Why Design Matters? Please cite three specific aspects of the project to explain how your design positively impacts people and the built environment.
Use diagrams, drawings and other visuals from your project, accompanied by a brief written description to explain the challenges, issues, and constraints you designed around, and why your design solutions work.
Students are encouraged to make changes to their original project to expand upon themes of social consciousness, and strengthen the positive impact of their space (e.g. environmentally sustainable, universal design, etc.) Please make sure to note these changes and explain why #DesignMatters.
SUBMISSION REQUIREMENTS | Please submit the following by May 30, 2018:
Please include two PDF documents:
The original project prior to changes you may have made.
The enhanced project calling out your three design elements, incorporating related floor plans, material performance(s), elevations, and other drawings.
Please submit entire document in a single PDF format of no more than 3 pages. Each sheet should be labeled with the following information:
Full name
School
Degree program
Anticipated graduation date
Email address
Phone number
JUDGING | Submissions will be evaluated on innovative thinking, social consciousness and illustration and communication of impactful design.
SEND YOUR PDF FILE OR ANY QUESTIONS TO administrator@ne.asid.org.